CORVETTE GRILLE
Shop for Corvette grille replacements and Corvette grille parts at discount prices. We have everything you need to restore your C1, C2, or C3 Corvette front grilles.​ Find brand new Corvette grille reproductions and grille repair parts including: Corvette front grilles, hood grilles, front lower grilles, C1 Corvette grille teeth, grille moldings, Corvette grille brackets and supports, and all necessary mounting hardware. We also carry a wide range of C4, C5, C6, and C7 Corvette Stingray Front Grilles for a custom aftermarket and unique look!
Showing 169-170 of 170 Products
Vent Grille-Hood-Matrix-Stainless Steel-14-17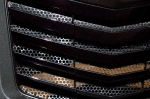 Make:
Chevrolet
Model:
Corvette
Item No:
E21871
Years:
2014 - 2016
Log In To See Pricing
2014-2017 C7 Corvette Hood Vent Grille - Matrix Series. Our Most Exceptional Cut to date!​
Vent Grille-Hood-Perforated-Stainless Steel-Z06, ZR1, or Grandsport-06-13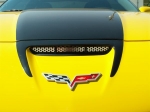 Make:
Chevrolet
Model:
Corvette
Item No:
E21591
Years:
2006 - 2013
Log In To See Pricing
2006-2013 Corvette Perforated Hood Vent Grille. Fits Z06, Zr1, and Grandsport C6 Corvettes. Polished stainless steel finish.