CORVETTE EXTERIOR DUSTER FOR PAINT
Shop for Corvette California original dusters at discount prices. Specializing in C1, C2, and C3 Corvette restoration parts and accessories.
Showing 1-1 of 1 Products
DUSTER-ORIGINAL CALIFORNIA CAR DUSTER-W-STORAGE POUCH AND WOOD HDL.-53-14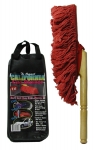 Make:
Chevrolet
Model:
Corvette
Item No:
EC581
Years:
1953 - 2014
Log In To See Pricing
CLEANS CAR IN BETWEEN WASHINGS WITH OUT WATER. LIFTS DUST EASILY, WON'T SCRATCH PAINT.